7 alternative organizational models - Part 2
November 27, 2018, 5 min to read
As the first season of our investigation into new organizations draws to a close, let's take a look at 7 inspirational models: Squads, entrepreneurial management, holacracy, the liberated company, teal organization, the DDO and open organization.
Last week we had a look at the first 4 alternative organizational models, this week let's focus on the last 3.

[In the theory developed by the creator of this model Frédéric Laloux, a color code is associated with each stage of the history of organizations. Orange is the pyramid, the most common type found today, while teal is the next stage of evolution.]
The pitch
A teal organization is dynamic, and has 3 characteristics:
Self-management: "powerful and fluid systems of distributed authority and collective intelligence".
Wholeness: "a consistent set of practices that invite us to drop the mask, reclaim our inner wholeness, and bring all of who we are to work".
Evolutionary purpose: "organizations are seen as having a life and a sense of direction of their own".
Pros/cons
+++:
A framework that links different levels: The individual (wholeness), the collective (self-management) and the legal entity (evolutionary purpose).
A gold mine of best practices (strategy, budget, objectives, training, compensation, assessment, recruitment, etc.), that helps to challenge our preconceived ideas about organizations.
---:
A model that isn't a system: While the 3 pillars are complementary, the author stresses that it's possible to make more progress on one pillar over another.
As with the liberated company, this model relies heavily on a "visionary leader" to drive the transformation. As interesting as it may be, specific advice about change is aimed at the CEO.
Key thinker
Frédéric Laloux, former associate partner at McKinsey.
Examples
Buurtzorg (Netherlands; home-care organization; 10,000 employees)
FAVI (France; automobile sub-contractor; 400 employees)
Patagonia (United States; outdoor clothing; 1,000 employees)
Further reference material
[Note to readers: Ignore the slightly strange name and acronym.]
The pitch
"A DDO is organized around the deceptively simple but radical conviction that organizations will best prosper when they are deeply aligned with people's strongest motive, which is to grow." (Laskow Lahey and Kegan)
Rather than being conflicting ideas, the development of each employee and the company's success are intrinsically linked.
A DDO has 3 dimensions: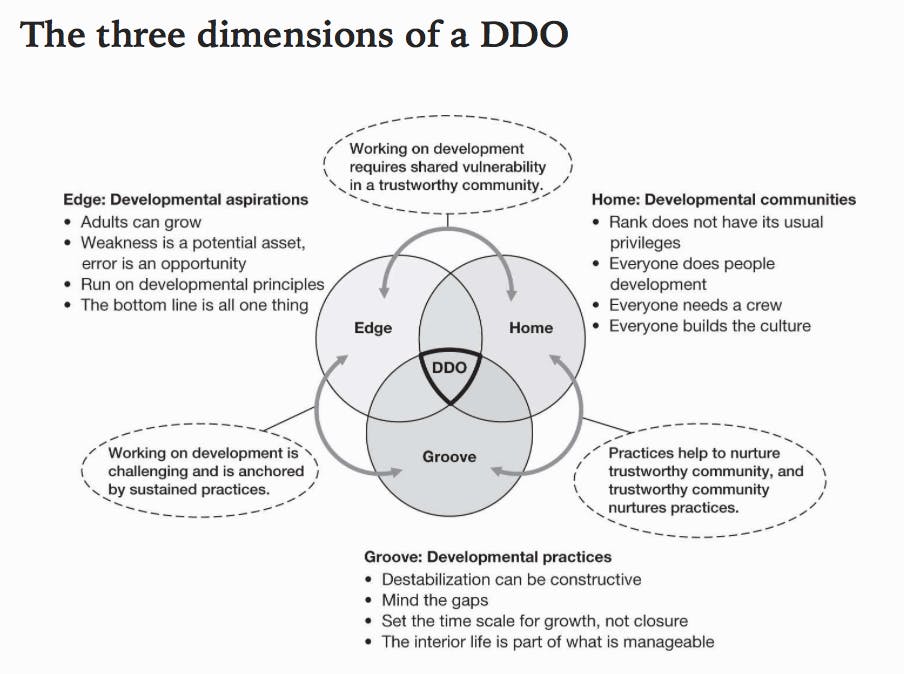 Pros/cons
+++:
A model that can be incorporated into a classic structure (the companies analyzed retain several layers of hierarchy).
A very coherent model built on interactions between the 3 pillars—it contains our beloved system concept.
An all-encompassing, reflective framework that looks at an individual's development in its broadest sense, and not just in terms of their role as an employee...
---:
...but this can also be intimidating, and some may consider this another attempt to combine, or blur the lines between, their professional and personal lives.
The permanent culture of "constructive destabilization" can get out of hand. Some employees have described the environment at Bridgewater as a "cauldron of fear and intimidation".
Key thinkers
Lisa Laskow Lahey and Robert Kegan, 2 developmental psychologists from the Harvard Graduate School of Education.
Examples
The DDO concept is based on the lengthy periods that the authors spent in 3 companies:
Bridgewater (United States; investment fund; $160 bn in investments; 1,700 employees)
Decurion (United States; movie theaters, real estate and retirement homes; 1,100 employees)
Next Jump (United States; HR software)
Further reference material
1 white paper that summarizes the concept in 15 pages
1 book: An Everyone Culture, by Lisa Laskow Lahey and Robert Kegan
Tangible ideas: the Next Jump website lists various initiatives that help to foster the physical, emotional, mental and spiritual (yes, you read that correctly) development of its employees. Provocative reading!

The pitch
Organizations that blur the lines between the various standard stakeholder categories (employees, shareholders, customers, etc.). Involvement is fluid:
In space: There are multiple levels of involvement.
In time: It is easier to contribute on an ad hoc basis, based on availability and needs.
These organizations rely heavily on digital tools—some use blockchain—to share information and take joint decisions.
It is also well-suited to remote working.
Pros/cons
+++:
The only model that really challenges a company's boundaries.
An alternative to the excesses of certain platforms, which focus on their own interests or those of a limited number of stakeholders.
Highly versatile in application terms: It is equally well-suited to profit-seeking companies as it is to driving forward an open source project or association.
---:
The extent to which it can be scaled remains to be seen, given how recent the projects are.
It's hard to find the right balance between virtual and physical coordination.
Key thinkers
Us!
Examples
Enspiral (New Zealand; community of social entrepreneurs and freelancers; 100 employees)
Colony ("a platform for open organizations")
Open Collective ("a new form of association, open by design")
Further reference material
Conclusion
1) These models are often interconnected. For example, personal development is a core feature of the liberated company, the DDO and teal organization. And small agile teams can be found in the internal startups of entrepreneurial management, holacracy circles and squads.
2) The models' greatest qualities are also their weaknesses. You will have noticed that the size of the base unit is key: The smaller the base unit, the more agile it will be, but also the more input it will require to coordinate efforts.
3) Find your own model! We can't repeat this often enough: The purpose of this article, and our entire focus on new organizations, is to inspire you, and not to provide you with cut-and-paste models.