7 alternative organizational models - Part 1
November 20, 2018, 6 min to read
As the first season of our investigation into new organizations draws to a close, let's take a look at 7 inspirational models: Squads, entrepreneurial management, holacracy, liberated company, teal organization, DDO and open organization.
Here's how these 7 models impact each of the different components of our POP model: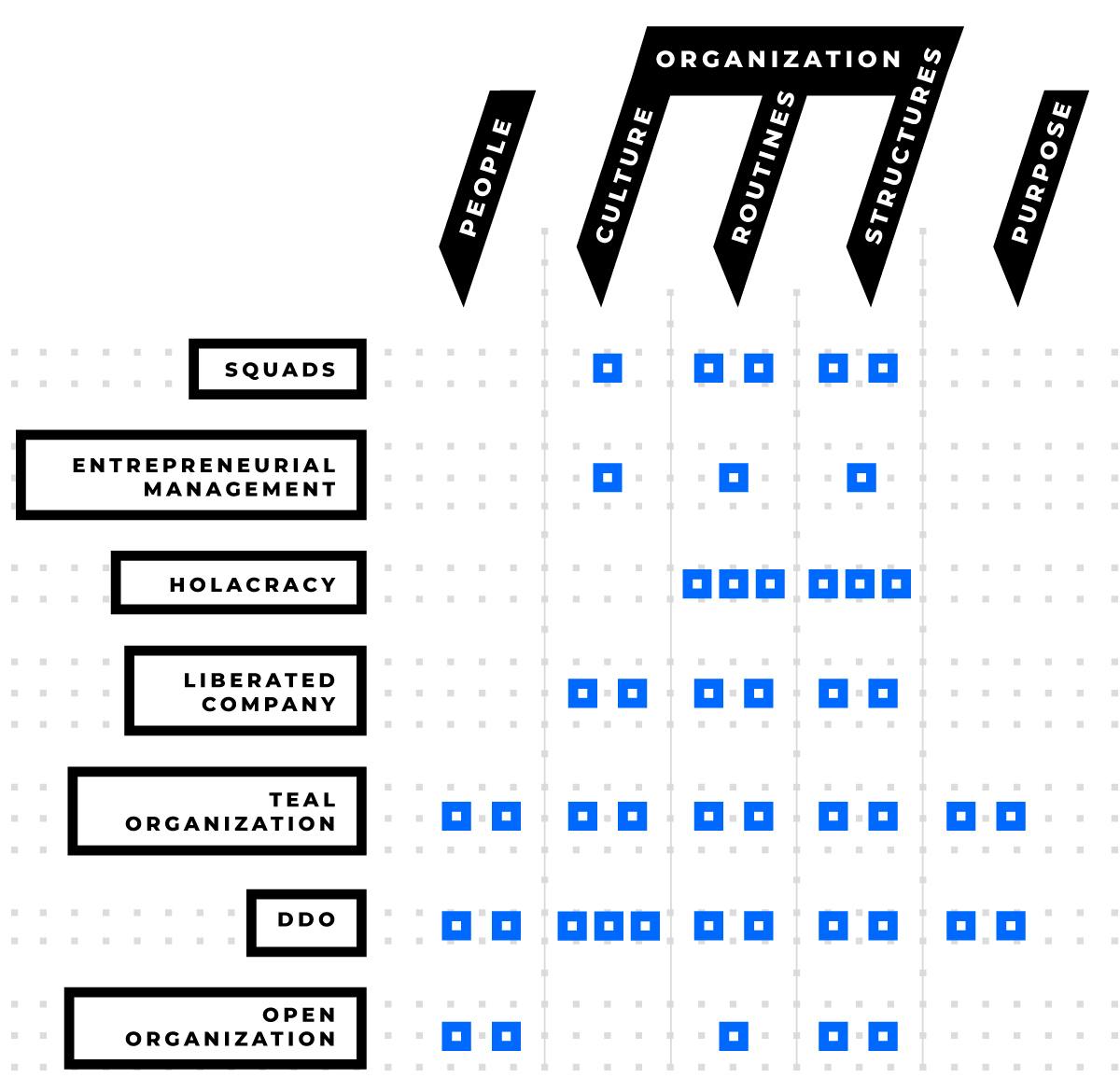 Let's first develop the first four models.

An organization based on small cross-functional and self-organizing teams known as squads (similar to mini startups), with mechanisms that facilitate coordination and minimize dependency on others.
Each squad focuses on one specific mission, overseen by a product owner who ensures completion and helps to prioritize efforts. But each employee also belongs to a guild, a community of people with similar skills and backgrounds (i.e. the guild of designers or front-end developers).
A squad organization is therefore a matrix: The first axis is the "what" (via the product owners), the second is the "how" (through feedback discussions with guild peers).
Pros/cons
+++:
This model has the highest level of subsidiarity: Although the organization's base unit (the atom) is a team (the squad), thanks to the guild and other cross-functional communities, this does not have a negative effect on the development of individuals within the team.
This model facilitates experiments, launching a new service for instance, where a new squad can be created that is entirely independent thanks to the various capabilities it encapsulates.
---:
Coordination at scale is substantial and crucial. Having a clear vision, enabling frequent discussions between product owners, and reviewing dependencies between teams on a regular basis are all key.
This model is particularly used in (applicable to?) the development of digital services.
Key thinkers
No one individual can be credited with inventing this model (unlike the other models outlined here), but Spotify is a key reference point. Agile coaches Henrik Kniberg and Anders Ivarsson outlined its principles and organization in 2012.
Case studies
Spotify (Sweden; music streaming service; $4.6bn in sales; 4,000 employees)
Valve (United States; gaming website; $4.3bn in sales)
FABERNOVEL! Here at FABERNOVEL, CODE, DATA & MEDIA and TECHNOLOGIES operate in squads. Feel free to contact us for feedback.
Further reference material

The pitch
The lean startup methodology applied to large organizations.
In this model, the modern company:
"- is founded on sustained impact via continuous innovation, and focused on long-term results
- operates rapid experiments
- has a new tool in its arsenal: The internal start-up, filled with a small number of passionate believers dedicated to one project at a time
- comprises leaders and the entrepreneurs they empower
- leaves competitors in the dust through continuous innovation" (Eric Ries)
Entrepreneurship is viewed as a new function to be developed in each organization.
A good diagram speaks volumes: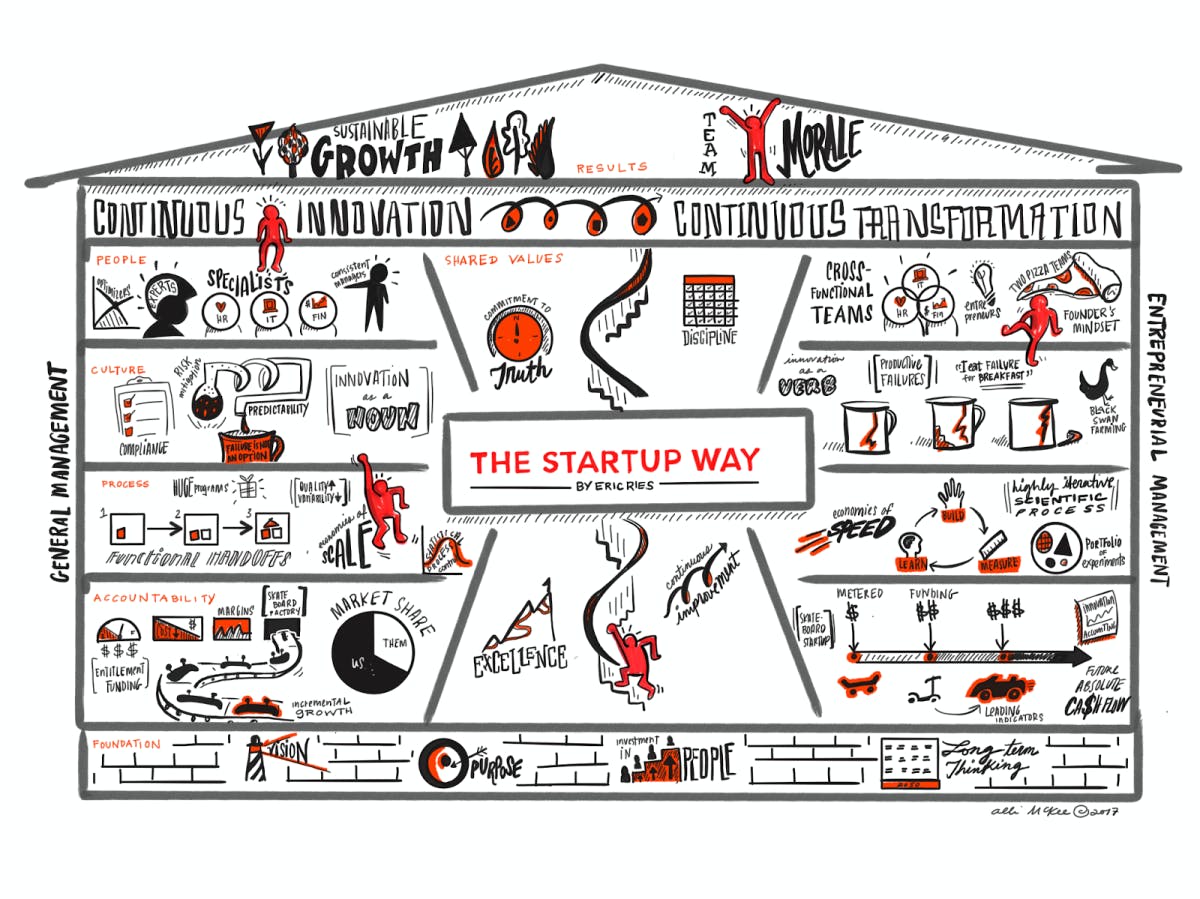 Pros/cons
+++:
This is a model designed for large corporations, with lots of advice on how to move from testing to scale.
---:
One of the model's strengths may also be one of its weaknesses: Allowing for lots of testing, but always outside of core business, may curb in-depth organizational transformation.
Key thinker
Eric Ries, entrepreneur. He developed this model while working at General Electric, where he was tasked with applying the lean startup approach.
Case studies
General Electric (United States; conglomerate; $122bn in sales; 313,000 employees)
Airbnb (United States; accommodation rental website; $2.6bn in sales; 3,100 employees)
Dropbox (United States; online storage service; $604m in sales; 1,850 employees)
Further reference material

The pitch
"Holacracy offers a new 'social technology' for governing and operating an organization—one that authentically distributes authority, and embeds flexibility and self-organization into the rules and processes through which the organization structures itself and goes about its business."
"Holacracy replaces the traditional pyramid-shaped management hierarchy with a structure based on the idea of holarchy. A holarchy looks like a series of nested circles.  Each circle (i.e. team) is made up of a set of roles, grouped together around a specific function—whether it be a specific project team, a department, a support function, or a business line." (Holacracy white paper)
Pros/cons
+++:
A huge effort to formalize how an organization operates—this is the most far-reaching model available in this respect.
This model takes the unbundling of the tasks/roles/positions/individuals we mentioned previously to its logical conclusion.
---:
Great deal of time spent on circle governance and coordination.
The detailed description of roles can hamper proactivity and the sense of shared responsibility on certain issues.
Key thinker
Brian Robertson, entrepreneur.
Case studies
Zappos (United States; e-commerce; 1,500 employees)
Springest (Netherlands; MOOC comparison platform; 40 employees)
Further reference material
1 constitution (yes, holacracy does have a constitution, 40 pages of pure joy): Holacracy Constitution
1 diagram: Springest has published its structure, so you can check out all the roles within the start-up and see how they are connected.

The pitch
"An organizational environment in which the majority of employees have the complete freedom and responsibility to take actions that they—not their managers or processes—decide are best to deliver their company's vision" (Isaac Getz)
Which meets the 3 universal needs that the model identifies in each person: (i) the need for intrinsic equality, (ii) the need for personal growth, and (iii) the need for self-direction. In short, the philosophy behind the liberated company model is that each employee wants to work and, furthermore, wants to work well.
Pros/cons
+++:
A strong stance as a starting point (whether you agree or not!): All employees are capable of self-motivation; it's the carrot-and-stick approach that is problematic.
A core issue that employees really relate to: Work is often hampered by hierarchy or processes.
---:
Strong reliance on the "leader-liberator", which explains why many examples quickly become obsolete. The "liberation" being challenged after a change in management.
Middle management—and their transition to new roles—are the big losers in this model.
Compared to other models, vision plays an even more critical role here, as it is the essential binding agent in a liberated company.
Key thinker
Isaac Getz, Management Professor at ESCP Business School.
Case studies
Quad/Graphics (United States; manufacturing; $4.1bn in sales; 21,000 employees; listed company)
W.L. Gore (United States; manufacturing; $3.2bn in sales; 9,500 employees)
Chrono Flex (France; business services; 350 employees)
Further reference material
Let's meet next week for the next presentation of these inspiring models.