Mobility-as-a-Service: still a work in progress - Part 2
October 7, 2019, 11 min to read

A seamless app, optimized itineraries and self-service scooters on every street. Welcome to the future of mobility. For now. The true challenges of mobility are infinitely more complex, and a purely digital solution will ultimately not suffice. In the age of MaaS (Mobility-as-a-Service), the crux of the issue will be smart collaboration between transport operators, public authorities and up-and-coming digital companies, in a model that has yet to be defined.
Since the spring of 2019, customers in the USA have been able to take Uber trips without having to talk to the driver from start to finish, allowing them to fully relax, concentrate or work while sitting back and enjoying the ride. The process was quickly accused of dehumanizing travel, but Uber's 'silent mode' single-handedly encapsulates the flip side of changes in the mobility sector, as ushered in by digital start-ups.
The latter are concerned with each individual user's personal benefits first and foremost, with collective needs (passersby, local residents, local authorities, third-party service providers, etc.) relegated to the sidelines. And although these companies are fulfilling the needs of the individual like never before (because let's face it, getting around town has never felt this easy, irrespective of your chosen means of transport), the negative external impact they are having on cities and town planning is starting to be felt: visual pollution, abandoned bikes and scooters, crowded sidewalks and roads, frequent accidents, an increase in traffic flow on side roads as a result of Waze's alternative route suggestions, etc.
What's more, most of these digital operators are based around ultra-competitive unitary financial models, which rely on entire armies of self-employed workers to be rolled out on a mass scale. The result is a series of new, insecure and dangerous urban jobs, such as the infamous 'juicers' tasked with charging electric scooter batteries. This model is being questioned by public authorities who uphold salaried employment, as seen this September in California's clash with Uber.
From the user's perspective, these pure players offer very handy experiences, true. But they all tend to blur into one. And just as we're starting to see the impact of Airbnb and Uber Eats on interior design trends (smaller kitchens, ubiquitous decor, etc.), they are helping to transform experiences and urban landscapes into monotonous contexts: do you really want to travel in a car with tinted windows, when you could be hopping into one of London's black cabs? Doesn't using Google Maps to get around any city in the world in a completely optimized journey turn the experience of travel into something too smooth, mechanical and predictable?
These dark sides of mobility today are just beginning to emerge, yet one thing is already clear: this will not be the mobility model of the future. Transport operators and public transport authorities will play a key role in developing an approach to mobility that is practical, efficient and mobile, as well as organized, accessible to all and sustainable. And they have the means and resources to do so.
To start with, although the digital giants may well define the IT architecture and experience standards, the operators are the gatekeepers of the actual infrastructure. For decades now, they have been managing, building and modernizing infrastructure that would be extremely complicated to replicate. They have economic and legal expertise and a network of partners, representing an unfair advantage over the emerging players. A good example of this was seen last summer, when CityMapper finally shelved Smartbus, its network of on-demand buses, primarily because it was struggling to comply with regulations that compromised the viability of its economic model. Transport authorities and operators are still responsible for ticketing, as well as validating and checking tickets. Over and above digital aspects, they can embrace the MaaS movement by offering adaptable, accessible pricing in less dense areas and for less privileged users — the very people private digital companies tend to leave behind. This inclusivity is key, especially since uncontrolled proliferation of new means of private transportation runs the risk of impacting on new infrastructure development, benefiting young, well-heeled communities in city centers: Scooter parking, electric car-charging stations, sidewalk curbs designed with private drivers in mind, etc.
What's more, unlike digital companies, transport authorities and operators enjoy an exceptional historical and physical foothold. Because they helped shape our towns, cities and regions, they possess a strong potential for differentiation. They can offer their users an entirely different type of value. RATP's Next Stop Paris app, for example, gives tourists a tailored experience to draw on during their stay, including content, tips and personalized transport tickets – and all with offline functioning.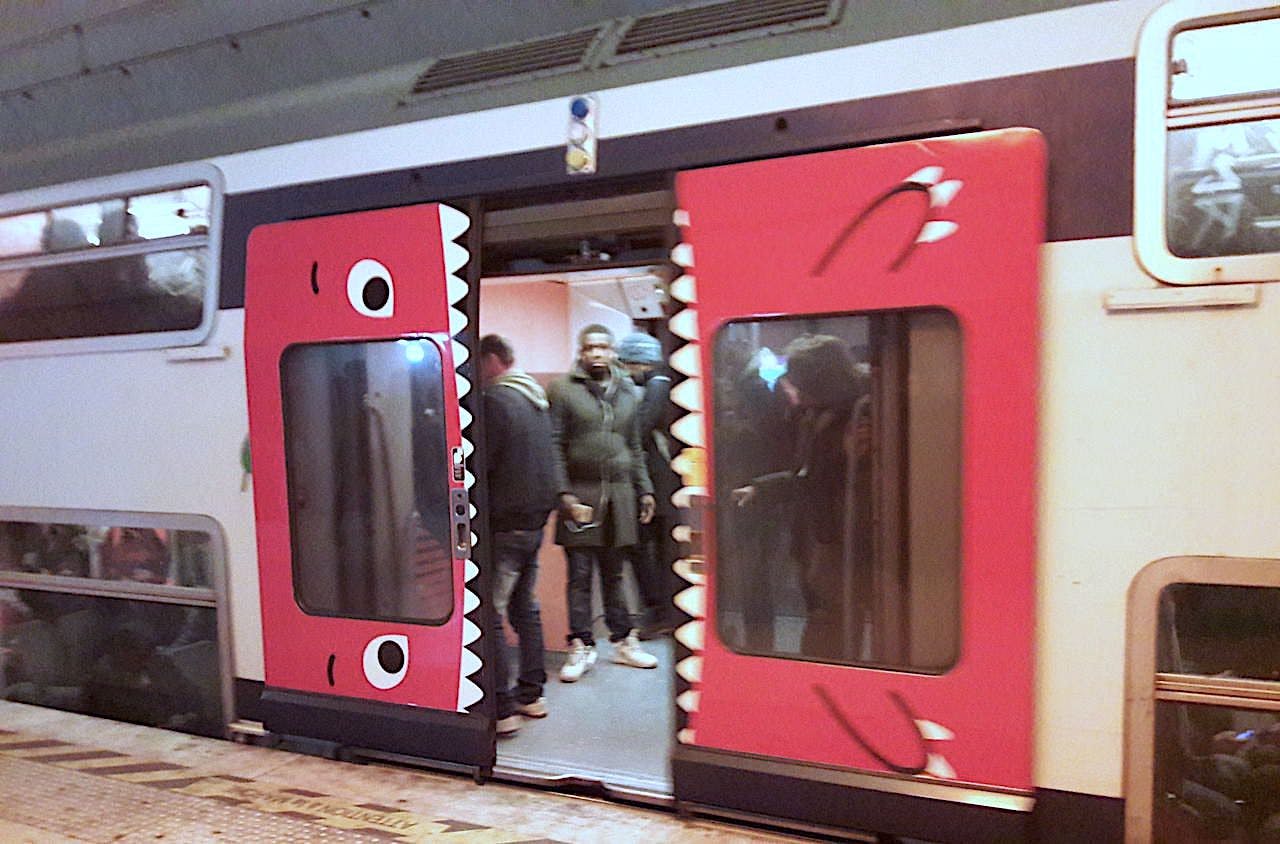 Unlike Uber, Bolt, Waze and others, public-sector transport authorities and operators work to benefit society at large, tackling mass transit issues head on. They know how to structure and organize mobility from both a collective and individual perspective. A good example of this are the SNCF Transilien experiments: drawing on behavioral science to create nudge features which give users little tips to help them alter their own behavior to benefit all travelers.
And finally, when it comes to urban management and town planning, historic operators and new companies alike all collect data that is crucial for local authorities and regions. While the highly opportunistic approaches taken by companies such as Uber or Google may spark debate — Replica, for example, is a Google Sidewalk Lab program which creates extensive, user-friendly models of urban itineraries based on mobile data used without necessarily securing user approval — regulatory authorities and cities can create value by tackling mobility in terms of its 'citizen experience' aspects, putting the emphasis on personal data protection. Considering a quarter of French people say they have given up a job because it was too difficult to travel to their workplace on a daily basis, access to mobility has significant economic and social factors to be considered on a national scale, and may hold the key to tackling isolation and driving regional development.
Generally speaking, might there not be room for a virtuous, alternative mobility model? In a context where transport authorities no longer have the same control over developing mobile solutions — see the unbridled proliferation of bikes and micro-mobility solutions — embracing the example set by pure players would involve reassessing the power balance between transport operators and authorities, and paving the way for heightened collaboration that would draw on the data and opportunities offered by digital tools. The process could also incorporate other types of intermediaries, and Smart City stakeholders such as IBM or Microsoft, who could become involved rather than being positioned as new competitors by becoming prescribers for the organizing authorities. More than just bodies tasked with executing a set of specifications, now more than ever, public transport operators need to ramp up their capacity for advising their partners and co-developing the mobility of the future within the ecosystem.
So how can this new model be implemented? What are the challenges and keys to success?
1. Scale
The first starting point is the idea of scale. Mobility platforms draw on key assets to define an operating scale and an adapted, differentiating value proposition. Google Maps benefits from its millions of users passively and willingly contributing their data to improve the accuracy of the itinerary suggestions it makes, and CityMapper takes a multi-local approach, using standardized mobile technology with flawless UX, which is easy to replicate and can target commuters in the world's densest cities.
Because they are essentially virtual, digital companies can quickly cover international and potentially even global scales. In order to offer a different model capable of spanning these scales, historic operators could consider an approach very similar to what happens in other industries: forming partnerships to benefit from economies of scale, increase market reach and emerge as legitimate players capable of entering discussions with major digital companies on an equal footing. However, the intensity of involvement in these coalitions is a key variable: different degrees of partnership and asset pooling are available depending on the goals, the desired level of commitment, and demand varying degrees of vigilance.
What, precisely, is the point of a shared data warehouse, considering the regulations laid out by the GDPR and the competition authorities will still need to be observed?
Another option would be to pool and share the development of functional blocks. As an example, Gravity is a French media and telecom alliance designed to rival Google and Facebook, which currently dominates the advertising market in France. They pool their consumer data and access to advertising space via a shared platform in order to offer advertisers extra value.
Sharing design principles would be another way of taking things further. Paylib, for example, is a panel of electronic payment services that brings together several French banks. Although each bank provides its own mobile app, the Paylib plug-in is found across them all, as well as the same functional principles and UX options (NFC payment, friend-to-friend payments, etc.), making it easier for users to switch between interfaces. A shared Design System could even be developed for use by all members of this cooperative system.
At a more advanced stage, the idea would be to share a single user interface. Salto, for example, encompasses TF1, M6 and France TV on a shared on-demand video platform positioned as an alternative to Netflix, where users can browse content from all three channels.

2. Reassessing the value chain
In the new economy, the customer is king to an unprecedented extent. As the boundaries between different specialties blur, all companies seem to be shifting towards a platform-based model where mobility solutions are collated.

Belfius Bank, for example, has integrated the mobility market into its app by capitalizing on its users and its technical payment infrastructure. In doing so, it is providing a solution to a related, recurring payment-based need: buying transport tickets and consolidating user loyalty within its app. Daimler and BMW are exploring areas of activity that may seem entirely new compared to their traditional, historic activities: Parking services, electric car charging hubs, car-sharing, bike platforms, electric scooters, etc. Because customers are now looking for itinerary ideas rather than means of transport, retaining their added value is dependent on them making the leap from mere manufacturers to operators.
In other words, there are no more markets, only customers. For most traditional mobility stakeholders, this is a brand-new way of tackling the sector, but the winner-takes-all logic inherent in the digital economy requires them to gain a deep understanding of this emerging ecosystem before they can find a place for themselves within it.
3. Working with the ecosystem
This reconfigured value chain is being flooded by players in the mobility ecosystem, and the fight for MaaS rages on.
Travelers most at ease with digital tools find themselves juggling a plethora of different services, from car GPS systems to electric scooters and train-ticket apps. The main obstacle they face is without a doubt the lack of integration between different means of private and public transport. This creates friction that users often don't fully understand, and sub-par performances, thereby generating golden opportunities for new players in the market. Once controlled by historic operators, the value chain is now creaking under the weight of these new stakeholders, as well as challengers from often unrelated industries.
Consequently, historic operators are now reassessing how open they are to the ecosystem, in an attempt to maximize the added value they bring to the end customer.
Many public transport operators are integrating the ecosystem, and integrating into the ecosystem, as seen at SNCF, which unveiled its MaaS solution in June 2019. With its Assistant SNCF app, the French rail operator hopes to encourage clean mobility by incorporating trains, buses, subways and electric scooters, as well as Uber and BlaBlaLines in the future. In order to roll out the transport offer on a mass scale, SNCF is reasserting its openness to other mobility stakeholders, and is inviting other operators, particularly in the Ile-de-France area, to share more of their data, thus creating an open, nationwide tool for all travelers to use. Berlin's BVG operator is doing the same, and launched its MaaS app Jelbi in late September.
But becoming a MaaS platform isn't the only way of creating value. Users will always need efficient transport operators which can position themselves as MaaS 'catalysts'. By pulling its official mobile contact point, TfL chose to leave CityMapper to secure a monopoly on journey-planning in the Greater London Area, and integrate other emerging transport methods.
At a more local level, the Mulhouse conurbation worked with Transdev to develop its Compte Mobilité, a public MaaS platform which uses a physical pass card and single digital contact points. This is a more selective process, as it incorporates services chosen by organizing authorities, starting with public transport, as well as partner car parks or the Citiz self-service car fleet.
In conclusion, when it comes to the challenges of disintermediation and the fact that the fundamentally collective, community aspects of mobility are being eroded, historic stakeholders must decide where they intend to position themselves: In developing closed ecosystems which must nevertheless remain comprehensive to satisfy users' needs, even those who may appear most distant, or in integrating into a wider, open ecosystem, drawing on partnerships (or not) to do so. With so many different strategic, technical and governance-related factors to consider, it is safe to say that while this revolution is overhauling the value chain, it is also opening up new market opportunities on both a global and local scale.
Interested in understanding more about this new context, and identifying the new opportunities that come with it?
Get in touch!